Check this page regularly for more detailed information on upcoming events and church announcements.
Arcata-McKinleyville Community Services Fall Sale
The McKinleyville Church is currently hosting their Fall Sale benefiting the Community Services Center. 
The sale began on Sunday, September 17th and will continue Sunday through Wednesday for three weeks from 10 a.m. – 5 p.m. The remaining dates are October 1-4.
Depression Recovery
There will be a Neil Nedley Depression Recovery Program at the McKinleyville SDA Church from September 19 to November 7 on Tuesdays only at 6:30 PM.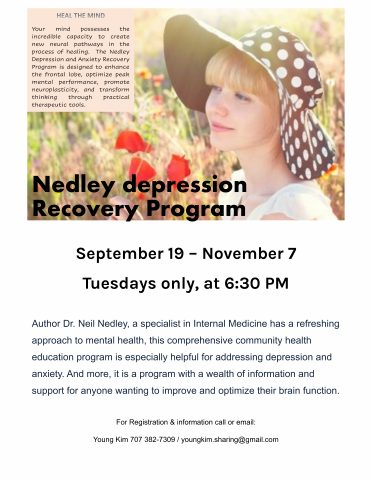 FJA Rummage Sale
Fortuna Junior Academy's annual rummage sale is coming up on Oct. 12th, 13th and 15th (Thursday, Friday, and Sunday). Volunteers are needed before, during and after the sale. Everyone is welcome to help sort, clean and price merchandise on Tuesdays from 1-4pm at the school garage. Please call Tim Whitchurch at              707-496-0441 if you are willing to help in any capacity.
Future of Humboldt Bay Christian School
Humboldt Bay Christian School (HBCS) is pausing school operations for the 2023-2024 school year. We are prayerfully seeking God's guidance with respect to how we should move forward in using this amazing resource that God has given us. We are asking members to provide any ideas they have for ways that we can use the school facilities to build of the church family and reach the local community for Christ. If you have ideas, please reach out to Jim Higgins, School Board Member, at JimHiggins@HigginsGrp.com or (916) 204-1749.